What a blessing to be part of this amazing show
Empire breaks records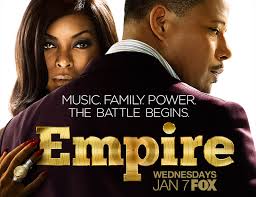 !
"Empire," your new favorite TV show (and mine!) renewed for a second season.
Meet the writing staff that's bringing you such great TV. Proud to be a part of it.
I'm proud to announce that I've joined the staff of the new Fox show, Empire, coming in 2015, as a co-producer and writer. I am so excited about this show. Y'all ready for this? Check out the official trailer at the link.
I am proud to announce The Cutting Season was awarded the Ernest J. Gaines Award for Literary Excellence on January 23rd of this year at ceremony hosted by the Baton Rouge Area Foundation in Louisiana. The highlight of my trip, besides sharing a stage with Mr. Gaines, was spending a warm afternoon having lunch with Mr. Gaines and his beautiful wife, Dianne. This is me in his back yard, standing in the entryway to the old plantation church and school he restored.
My thoughts on books, race, film, Obama, Louisiana, Texas, crime and more…
What a lovely chat with Tell Me More's Michel Martin on NPR.
Books, Movies and Motherhood. Listen here: Tell Me More, Jan 29, 2014
KEY WEST, FL / JAN 9-12
I'll be participating this year's Key West Literary Seminar: The Dark Side
Session One is SOLD OUT, but check out Session Two with Sara Gran, Michael Connelly, Lee Child and more.
BATON ROUGE, LA / JAN 23
As the 2013 winner of the Ernest J. Gaines Literary Award, I'll be doing a public reading at the Manship Theater in downtown Baton Rouge. Check their website for more details.
ST. PETERSBURG, FL / JAN 24-25
I'll be teaching a workshop at the Eckerd College Writers' Conference: Writers in Paradise. And doing a reading with none other than Laura Lippman!
PALM SPRINGS, CA / FEB 8
I'll be doing a reading and signing at the Palm Springs Library.
LOS ANGELES, CA / FEB 20
I'll be in conversation with Walter Mosley at the LA Public Library, as part of the ALOUD series.
WHITTIER, CA / MAR 15
I'll be a featured speaker at the Whittier Bookfaire.
LOS ANGELES, CA / APR 12-13
I'll be joining the fun at the Los Angeles Times Festival of Books.
LITTLE ROCK, AK / APR 24-27
I'll be at the Arkansas Literary Festival.
IRVINE, CA / MAY 10
I'm honored to participate in the 21st Annual Festival of Women Authors, put on the Literary Guild of Orange County.
Buy The Cutting Season now!